National Institution for Transforming India (NITI Aayog) initiated a pilot project in November 2017 to install 135 electric vehicles (EV) charging stations in NCR, Delhi. To support this move, an ABB Terra 53 fast charger is established at Niti Aayog office in New Delhi this week. The inauguration was initiated by Nitin Gadkari, the road transport, and Highways Minister.
ABB Terra 53
As per ASEA Brown Boveri( a Swedish-Swiss MNC), this newly established 50kW fast charging station can charge the electric cars in just 30 minutes. The new station, Terra 53 converts AC from the grid to DC in relation to charge electric cars. The company further says that the charger can as well be utilized to charge on electric vehicles which use AC charging facility.
Also Read: Kia Introduces The New 2018 Ceed Hatchback Before World Debut
NITI Aayog Supports The Move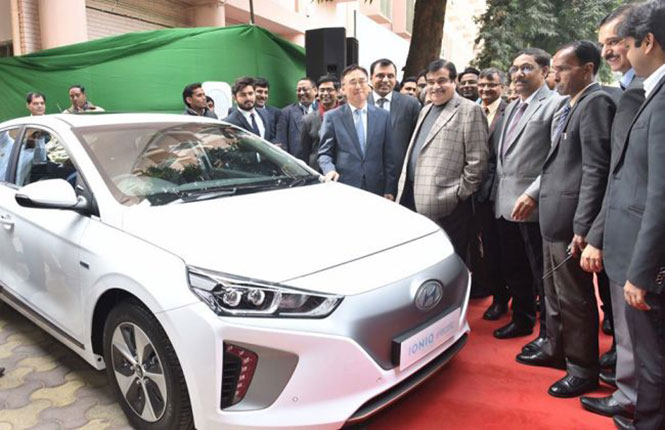 Such as EESL, NITI Aayog also wishes to prevail EVs in place of petrol and diesel powered vehicles. Last year contract for supplying EVs to EESL is won by Tata and Mahindra. At the late last year, the companies launched 150 units of the Mahindra e-Verito EV and 350 units of the Tata Tigor EV in the first slot. The Tigor EV will be launched later this year and the Mahindra e-Verito is available in the market. During the same time, it is expected that the company will launch, the Tiago EV.
Read Also: Mahindra Plans To Invest Rs 176 crores in Zoomcar
Hyundai Ioniq Also Made Display at NITI Aayog Delhi Office
Hyundai Motor India showcased its electric vehicle, Ioniq EV along with the first made-in-India charger. The Ioniq EV and the Ioniq Plug-In Hybrid were showcased last month during Auto Expo 2018. Before the event, the company also announced to launch the Kona EV as the first Indian EV from the company. It is expected that this electric SUV may launch alongside the Ioniq EV.