Audi has decided to give a big cheer to its supersonic V10 engine by celebrating its 10 years journey with upcoming Audi R8 Decennium edition. The coming Audi R8 decennium sport an exclusive Daytona Gray paint finish. The V10 engine in the upcoming Audi R8 churns out the power of 611 hp along with 580 Nm torque. The name 'Decennium' given to the limited edition Audi R8 is a Latin derivation, which means a decade. The colour schemes available for the Audi Decennium edition include Suzuka Gray, Floret Silver; Mythos Black, Ascari Blue, and Kemora Gray.
The key exterior design elements in the decennium edition Audi include a front spoiler, side sills, bronzed engine intake manifold, and glossy black painted diffuser. The mirror casings of the exterior door and side blades will also come with gloss carbon fibre finish.
Inside the hood of the car, the seats will be wrapped in diamond-quilted stitching pattern and carbon fibre inlays will also be present in the all-black cabin. The steering wheel of the car will also feature a 12 o'clock marking, centre armrest, door armrest, and door rail.
Read Also:-Audi India Inaugurates New Showroom in Hyderabad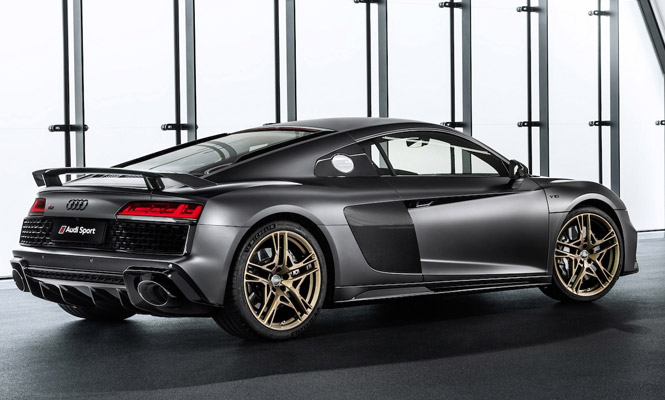 At the central console, doors, carbon sill trims, and elsewhere, the special car logo will mark its presence. Gloss carbon and Audi patented special partially matte finish will surround the central console base of the car. After opening up the car doors, a 'Decennium' logo is projected on the ground by the door lights and also reflect the sequential limited-edition number of the car.
The limited edition Decennium will be based on the top-spec current gen R8. The V10 engine in the upcoming limited edition will be 5.2 litres in capacity and will allow the car to go from 0 to 100 kmpl in 3.1 seconds. The top speed of the car would be pegged at a bolstering 205 mph/331 kmpl. MMI navigation and Audi virtual cockpit will also be offered as standard.
Read Also:-Honda Electric Car Production Ready Model Gets Unveiled
The big thing to note for Audi fans is that only 222 examples will be made and can grace their garages. It will go on sale side-by-side with the recently launched Audi R8 facelift and deliveries will start from Spring 2019. The price to own this limited edition beauty from the house of Audi would be 222,000 euros that roughly sums up to INR 1.8 crores. Voila!!! The price of standard variant of R8 is around INR 1.3 crores that come with 561 hp V10 engine, and INR 1.6 crores onward for the top spec variant. The new limited edition Audi R8 Decennium glimpse can also be seen at the upcoming 2019 Geneva Motor Show starting next week.