Honda forecasts the city being all electric and with the same concept it has added a new version in its products which will be present for sale in Europe in 2019. Honda hopes high with the new Honda Urban EV and expects its lounge fashioned interior & apple style appeal to fascinate more costumers.Honda will raise the curtain at Geneva Motor Show and showcase its four-seat hatchback in 95% production ready state.some of its pictures revealed by the company address that Honda has depicted Urban EV Concept(unveiled at the 2017 Frankfurt motor show), with the addition of an extra set of doors.
Honda has not yet extended all the technical details of the new hatchbacks publicly but confirms its slightly shorter size than a Jazz and a slightly taller around 100mm than a Mini. Honda claims that Urban EV will deliver a range of over 200 km (124 miles) and a "fast charge" functionality of 80 % battery charge in just 30 minutes. The e-prototype is finished on a new platform relevant for smaller segment electric cars, with underfloor batteries similar to the one used in the US market Accord plug-in hybrid. The rear-mounted electric motor drives the rear wheels, which uses torque vectoring to facilitates effortless response and improved handling in tight corners.
Other design features cover flush "pop out" door handles and compact cameras substituting the outdated side view mirrors will raise the aerodynamic efficiency, the same type of camera is already witnessed in Audi's E-Tron electric SUV, as well as a raft of electric concepts and pre-production models like Byton and Faraday Future. "We believe the range is sufficient for this segment of car," said Hitomi. "Some potential customers might not be satisfied, but when you think about bigger range and a bigger battery, it has drawbacks in terms of packaging. It's a balance."
Read Also:- Report on January 2019 Car Sales India: Sales Down Across All Brands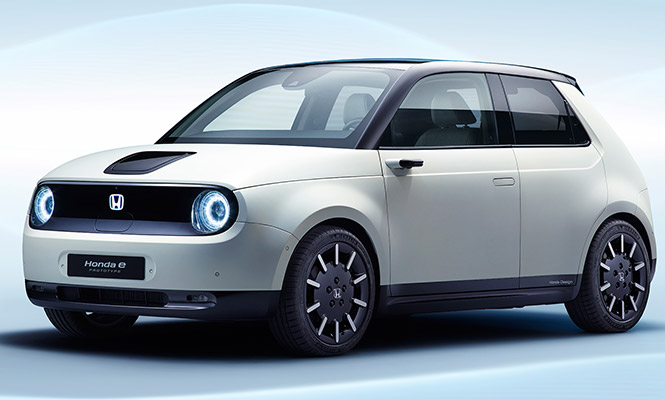 Hitomi admitted that the range offered by e prototype is lower than that of competitors' EVs such as the 454km Kia e-Niro or BMW i3 but it was also indeed necessary to keep the batteries small to accomplish its city-car role.
Read Also:- Honda UK plant closure in 2021 Confirmed Rendering 3,500 Employees Jobless
The cabin is consist of the customizable 12-inch dual screen which features a range of intelligent applications and service. The combination of the seats – including a two-seat bench in the rear, covered in polyester with the wood effect in dash box fills the interior with the flavor of the living room and defines the car beyond the medium of transportation.
The manufacturing of e prototype will take place in Japan and be available for sale in selected European & Japanese markets in late 2019 & 2020 respectively. While the Japanese firm has not confirmed any projects for the all-electric city car's India launch, Honda is looking forward to bring an affordable hybrid to India by 2021.