It has been a long time that the Maruti Suzuki was in the attempt to finalize its in-house developed 1.5-litre diesel engine and now the Company has come up with the updated Maruti Suzuki Ciaz which is the first model to feature the new engine being called DDiS 225. It is named as DDiS 225 such as to be representing the production of tremendous torque output.
This is a turbocharged four-cylinder diesel engine which offers a power of 95hp at 4,000 rpm and a peak torque of 225 Nm at 1,500-2,500rpm. This is an extra performance which exceeds and marks a 5hp and 25Nm jump over the outgoing 1.3-litre engine. ARAI has rated the Fuel economy at 26.82kpl and thus, has made the Maruti Ciaz diesel hold the crown to be the most efficient diesel-manual mid-size sedan. Although the engine has been mend out of Aluminium, Maruti says that refinement of the engine has been given the utmost importance.
The compression ratio has been optimised which results in reduced engine fluctuations. There has been a dual-mass flywheel which has also been incorporated. The 6-speed manual gearbox is also offered by Suzuki to the Ciaz diesel based car. As the Company is ready with its BS-VI, one of its model BS-IV is supposed to be upgraded for the sake of compliance and to meet the more stringent norms but at a later date.
Read Also:- Maruti Suzuki Baleno Sport Under Production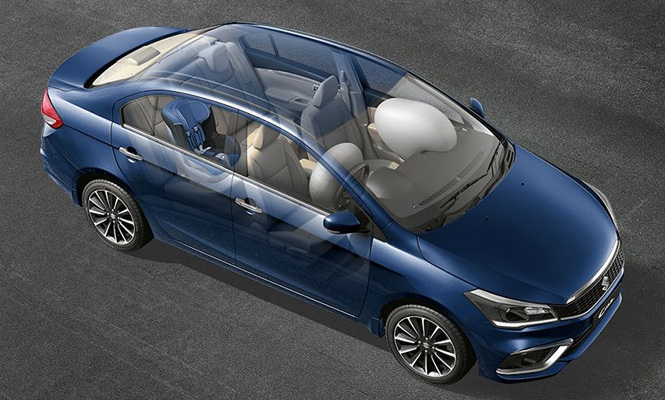 Pricing
The Prices for the updated Maruti Ciaz diesel variant starts at Rs 9.97 lakh (ex-showroom, Delhi) and this is for the base delta variant which would vary upto Rs 11.37 lakh for the Maruti's top-spec Ciaz Alpha. The Price of lower-spec Delta trim experiences hike. The prices for this model took a hike by about Rs 17,000 and by Rs 35,000 for the top-spec Alpha variant as compared to the outgoing 1.3-litre diesel-based model. The Point needed to be highlighted is that the previously offered base Sigma variant is not being made available with the Ciaz 1.5 diesel.
Read Also:- New safety Standards for cars and SUVs by European Unions
Here we need to mention that the new Maruti Suzuki Ciaz diesel variant misses out on the mild-hybrid setup of the old model whereas the Maruti Suzuki Ciaz petrol variant is still coming with its dual-battery hybrid setup.
Currently, Maruti Ciaz has got the pride to be the best-selling mid-sized sedan. Here, the introduction of the new diesel engine has added to the best of its stocks and would be replacing the outdated diesel engine. Thus we see that, the in-house developed DDiS 225 diesel engine offers a torque of 225Nm and 95hp power with an offer of classy fuel efficiency figure of 26.82kpl.