The end of an era has come as Maruti has finally halted the iconic Gypsy in the Indian market that too after long 33 years. In December 1985, the Maruti Suzuki Gypsy was launched and was among the oldest models which were manufactured by the company and came a long way. The company communicated with the dealers and said that the production of the Gypsy has been stopped and also told not to accept any booking of the vehicle.
The Gypsy featured an old-school design of the '80s which cannot be upgraded further and will also not meet the crash test norms. And to make the SUV capable of crash test then it would have to be re-constructed overall again which is not possible. Investing in the SUV could bring only loss to the company, so Maruti Suzuki decided to put a halt on it. Not only Gypsy but many other models will also face the same consequences because of this reason.
Read Also:- Top 10 Light Weight Cars in India on Sale: Maruti Cars on The List Too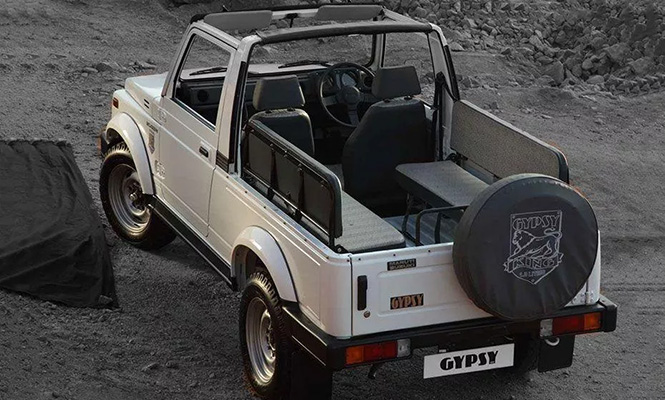 After Maruti 800 (SS80) and the Maruti Suzuki Omni van, Maruti Suzuki launched the Gypsy in India. At the time of launch, the Gypsy was powered by a 1.0-litre petrol motor (MG410) which was coupled to a four-speed manual gearbox. The SUV was upgraded later with a 1.3-litre variant which was mated with a five-speed manual transmission (MG413).
The Gypsy which was only available with the petrol-only variant, lose out to diesel-powered one. Being an entry level variant in the SUV segment, the Gypsy's diesel trim became a mass product in no time. Due to this reason, the SUV stood at a higher position for almost 30 years and got a title of "giant" because of its sturdy character.
Read Also:- Maruti WagonR Electric and Solio Hybrid put on display at 2019 Future Mobility
For many years, the SUV was the "A" factor for the Indian Army, which ordered 2,017 Gypsies in 2015 for the last time. The Gypsy is also famous in the small off-road community of India and the hearts of many die-hard 4WD fans which will be broken after knowing about the halt in production of the SUV. The Gypsy was also used in the rally and was the most successful rally car in India which gave India many champions like N Leelakrishnan, Farad Bhathena, and Hari Singh.