With the election in India, the purchases of vehicles get affected with negative impact in sales across all vehicle categories in the first month of the financial year 2020. Not even this, the passenger vehicle segment also indexed a substantial de-growth in sales in April 2019. And the reason being considered behind such decline is subdued buyer interest and poor market sentiments due to the undergoing general elections.
Other than this, the slowdown continues from the festive season of FY2019 and experts believes that there are fewer chances of any improvement in sales until the next quarter of the progressing fiscal. Wherein the factors like high fuel prices, low availability of funds and raising acquisition costs are led to disinterest in most rural places. While the shared mobility has become more convenient for urban customers which are slowing down the new car ownership in the country's key Tier 1 cities.
Read Also:- Tata Harrier, Mahindra XUV500 Emerged as the Most Popular SUVs in India
In the sales performance of last month, almost all the significant vehicle segment registered low sales. The passenger vehicles (PVs) and two-wheelers recorded a double-digit dip in sales. Overall, a total of 2,47,541 units were sold with a de-growth of 17.07 per cent from the recorded sales of 2,98,504 units in April 2018. The cumulative sales in all vehicle segment stood at 20,01,096 units that are 16 per cent down from the 23,80,294 units dispatched last year.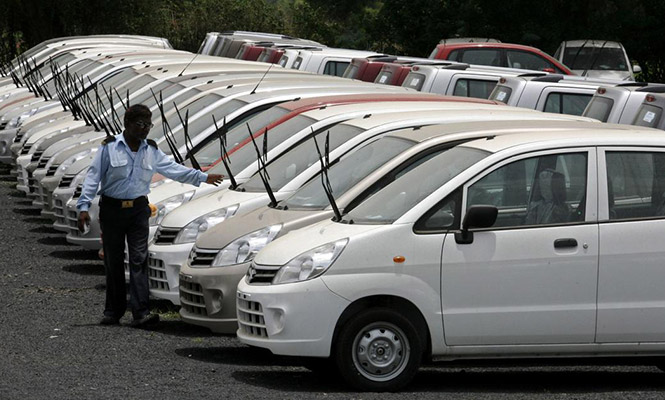 Moreover, the PV segment which includes passenger cars indexed a mere sales of 1,60,279 units that are a huge fall of 20 per cent over the 2,00,183 units sold in April 2018. In addition to this, a downfall of 6.67 per cent is recorded in the sales of the UVs which pegged just 73,854 units as against to April 2018: 79,136 by month end.
Read Also:- Top 10 Best Selling Passenger Vehicles in India for FY 2019
Not only a single carmaker but the majority of automakers are witnessing such crunch. The situation is all same with the country's leading carmaker, Maruti Suzuki as well which manages to sell only 1,31,385 units with a decline of 20 per cent against 1,63,434 units sold in April 2018. While Hyundai Motor India recorded a drop of 10 per cent with 42,005 units of sales (April 2018: 46,735) and Mahindra & Mahindra which is recognised for its UVs just sold 19,966 vehicles with a de-growth of 9 per cent. With Tata Motors the situation is worse as it registered a slump of 26 per cent for sales of just 12,694 units (April 2018: 17,236).
The PV segment gets a sigh of relief only in the export market where it registered an increase of 11.6 per cent on a year-on-year basis.