Porsche Panamera Sport Turismo that is priced at Rs 2.08 crore (ex-showroom, India), is ready to launch in India in January 2018. While the bookings for the car has already been commenced earlier this month. Though, the Panamera Turbo variant of the vehicle in question will make its presence first into the Porsche dealerships in India as similar to the regular Panamera, that costs Rs 2.03 crore in Indian currency.
Other than this, the Panamera Turbo S E-Hybrid Sport Turismo that is the fastest Panamera Sport Turismo model is also in the queue to join their siblings. Albeit, it would be provided on a made-to-order basis for the desirable ones as Porsche has planned for this Rs 2.38 crore priced model for India.
The Sport Turismo is a shooting brake version of the Panamera that offers a slightly raised roofline, additional boot space of up to 50 liters, a larger tailgate and a low loading sill that makes luggage loading much convenient. This shooting brake version offers 4+1 seating configuration while the standard version of the same is a four-seater variant. Other than this, this model also features an adaptive roof spoiler as a standard fitment that can electronically be adjusted as per your driving needs and selected vehicles settings to get an additional 50kg of rear downforce.
Read Also: Honda City All Four Generations Explained
On the powering front, the Turbo iteration gets the propelling power from a 4.0-litre V8 engine that in integration with an 8-speed PDK gearbox and all-wheel drive system transmits 550hp of maximum power at 5,750-6,000 rpm along with 770 Nm of torque at 1,960–4,500 rpm. The Panamera Turbo ST can easily complete 0-100kmph sprint in just 3.6s and can reach up to the top speed of 304kph.
While, on the other hand, the 4 E-Hybrid that is in association with an electric motor along with the similar internal combustion engine can generate the combined power of 680hp and 850Nm torque. Comparatively, the Panamera 4 E-Hybrid ST is quicker than the Turbo ST and completes similar sprint in just 3.4 sec and attain the top speed of 310 kph. The only electric motor offers a range of up to 49km for the 4 E-Hybrid.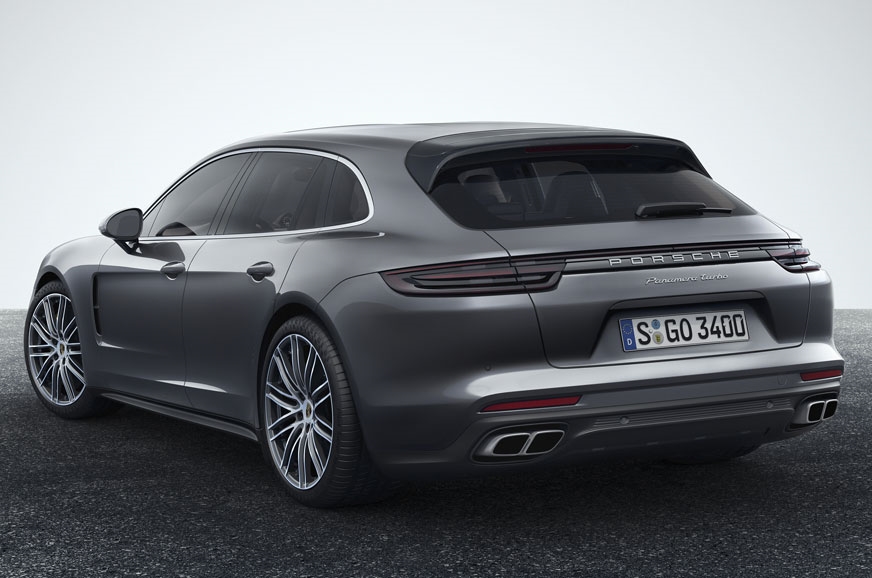 With the addition of the Sport Turismo body style at the Geneva Motor Show 2017, Porsche has expanded its Panamera range. Globally, the Panamera range consists of an option of three additional drivetrains-the Panamera 4, Panamera 4S and Panamera 4S Diesel, apart from those the Turbo and the 4 E-Hybrid variant.
Check This Link: Maruti Suzuki Survey For Electric Vehicles In 2018
In India, when this estate body styled Panamera Sport Turismo range will go on sale, it will certainly be a niche within this niche brand's lineup. Later, around in June 2018, the brand's most important model, the third generation Cayenne will also join the Panamera Sport Turismo range in Indian portfolio.