Back in 2014, the car lovers in India have witnessed a special edition limited car called DC Eleron at the Delhi Auto Expo. At that time, a price tag of INR 35 lakh has been put on this stylish SUV by the unique Indian automotive company-DC Design. The Indian auto industry has completely changed now, and DC has also come a long way thanks to its unique styling of cars. Owing to the company design, DC boss, Dilip Chhabria, has re-launched the Elron SUV in India, but with a high level of customization.
This two-door designed SUV from DC is also based on the old gen Toyota Fortuner and also come with a distinctive layered body design wherein two-tone colour scheme has been used for the upper and lower part of the car. The top half of the car is painted in a shiny orange color whereas black color can be seen on the lower body part. A large front grille, 21-inch alloy wheels, and bi-xenon headlamps with DRLs can also be seen in the car.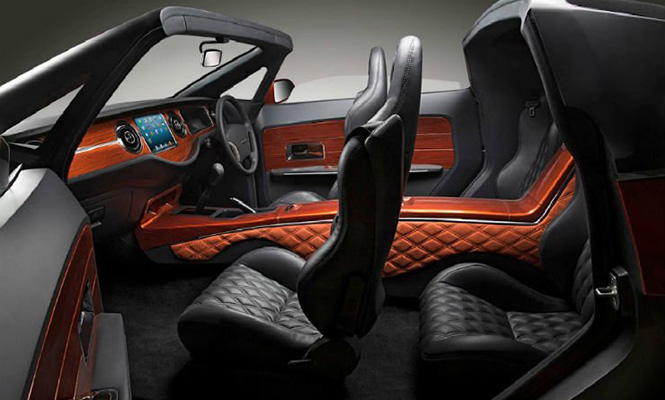 Read Also:- DC Avanti Captured in Video While Running on London Streets
Staying true to DC's heritage design standards, the interiors of the car are vibrant and comes with a host of comfort and convenience options. Black and tan colour scheme along with diamond pattern leather upholstery can also be seen inside the hood of the car.
Leather has been used extensively all around the cars starting from steering wheels to buttons mounted on the dashboard; everything appears to be leather-based and sporty. An analog instrument cluster with an Apple Ipad screen alike display, four large AC vents, wooden door panels, and a large storage area are some of the key features when it comes to car interiors.
Read Also:- DC Avanti to Launch in India on April 15
This Toyota Fortuner inspired DC Eleron SUV also has powerful mechanical specs as it comes with the same 3.0-litre diesel engine that was present in older gen Fortuner. At last, this stunning and sportier DC Eleron SUV has been put on sale in DC North East showrooms exclusively for the buyers to take this home and enlighten their garages.