India Yamaha Motor has launched the new Saluto 125 UBS and Saluto RX UBS in existing lineup. The Saluto 125cc UBS is being offered in two trims- the drum brake variant that is available at INR 58,800 and the disc brake trim is on sale at INR 60,000. The Saluto RX 110cc with UBS, on the other hand, makes the buyers shell out INR 52,000 amount. The colour options for the Saluto 125cc UBS variant are Armada Blue, Sparky Cyan, and Brave Black. While the Matte Green option for the model attracts an extra grand over the mentioned pricing. The Saluto RX 110cc with UBS offers a range of Matte Green, Ritzy Red, and Snappy Cyan colours and a Darknight shade is available at a grand more.
At the launch event, Motofumi Shitara, Chairman, Yamaha Motor India group of companies said, "Yamaha's unique style is to continually innovate its products in order to have a strong connection with the customers. At the same time, the company also feels an equal responsibility to ensure safety for the riders by introducing latest technologies. The Unified Braking System (UBS) will now create easy riding scenario for any rider."
Read More: Yamaha RX100 Influenced Motorcycle Expected in Coming Future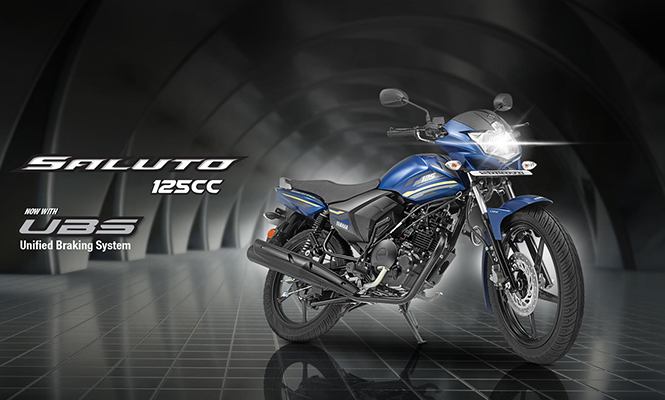 In these new Saluto 125cc and Saluto RX 110cc variants, there is a common equipment of UBS. UBS stands for a unified braking system that improve the stopping power of motorcycles. In fact, UBS is the part of new govt safety norms that mandate ABS on 125cc or above displacement bikes and CBS below 125cc. The upcoming safety regulations will hit the country from 1st April 2019.
The UBS-Unified Braking System concept works with the application of rear brake as the front brake simultaneously applied partial force on the wheel. The braking on the vehicles with UBS enhanced to a next level with the intensification of braking force. UBS also was known as the CBS or the Combined Braking System.
Yamaha Saluto 125 with UBS is 114kg in weight and packs an air cooled, 4 stroke, SOHC, 2-Valve engine based on Blue Core Engine Development. The Disc brake variant with UBS offers more precise braking and enhances rider's control over the bike. The Saluto RX 110 with UBS, on the other hand, has an air-cooled, 4-stroke, SOHC, 110cc, 2-valve single-cylinder engine as a beating heart though it tips the scale at 99kg.