Fujifilm has announced new camera ranges in the point and shoot (bridge) and action camera line up. The FinePix series has suffered an expansion with XP80, S9900W and S9800. Out of these three cameras, the XP80 is an Action camera which has the superb ability of working against weird conditions of fall, sink and dust. The other two are bridge cameras with high zoom feature of around 50X along with 16.2 megapixel sensors. These cameras will start retailing in the month of March, 2015 with competitive prices. The Finepix XP80 will wear $229.95 price tag while S9900W and S9800 will be holding the tags of $349.95 and $329.95 respectively.
CES 2015 Hot: Canon PowerShot Series Bombarded CMOS, NFC and WIFI at CES 2015
The Action camera XP80 is a rugged device which is packed into a solid body. It is dust-proof, waterproof upto 50 feet and freeze proof upto -10 degree Celsius and shockproof from upto 5.8 feet. The Action camera mode of the snapper enables the user to mount it on the head and makes the optical range firm at 18mm. The LCD panel gets switched off during this. The wireless data transfer facility is also forced into this gadget which works with Fujifilm Camera Remote app and WIFI.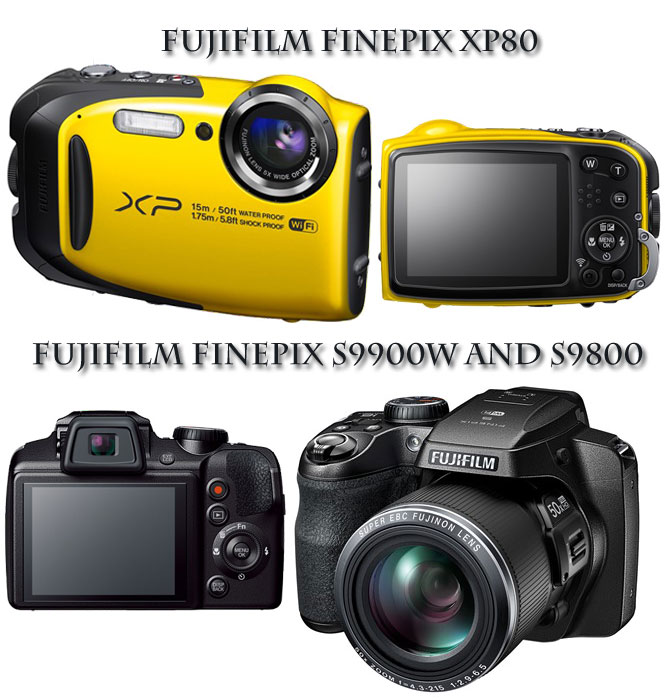 The other two snappers are high zoom compatible gadgets with 50X maximum zooming range. The S9900S is WIFI compatible camera while the S9800 is a non WIFI version. Both of them houses 16.2 megapixel CMOS sensor with 12,800 reaching maximum ISO sensitivity. Startup time required by them is 1 sec while the autofocus sets in 0.15 sec. The 0.6 sec is the time required to capture the consecutive image. The 50X optical zoom is applicable with F2.9-F6.5 lens with 24-1200mm optical range. The Fujifilm Intelligent Digital zoom lets the user to emphasise the zoom upto 100X and can shrink down to 1cm in Super Macro Mode for close up images.
Identical to the XP80, the WIFI connectivity can be established with the company's Camera Remote App. Using this app is easy and transfers data with the single press of button. The sharing of images over social media, smartphone and other computing devices is quick and free of lags.