Lenovo is all ready to take a stand at the CES 2017 going to be held in Las Vegas by tomorrow January 5, 2017. The company is going to unveil three new devices in its ThinkPad X1 series along with a new VR headset. The three new models will arrive named as ThinkPad X1 Yoga, ThinkPad X1 Carbon, and ThinkPad X1 Tablet.


The ThinkPad X1 Yoga is powered by the Intel's 7th gen SoC, and will be available with a battery backup of 16 hours. A fingerprint sensor to boot is also made available in the device along with a biometric verification system and IR camera.It features a 14-inch OLED display and an Upgraded Pen Pro for excellent writing experience. Its compact design makes it easier to switch into tablet mode. The 2-in1 device will be available in silver and black colour variants.


Next in the list is ThinkPad X1 Carbon, which is powered by Intel's Kaby Lake chipset coupled with up to 16GB of LPDDR3 RAM. Apart from this, there will be six different storage variants available, which includes 128GB, 180 GB, 256 GB, 512 GB SSD Intel PCIe TLC OPAL2, 512GB SSD PCIe TLC OPAL2 and 1TB SSD PCIe TLC OPAL2. The device is blessed with a 14-inch IPS display, available in two different variants including a WQHD model and an FHD model. In terms of security, it packs Windows Hello, which makes it easy to log in the device with just a single finger. The battery of the device and keep it awake for up to 15 hours.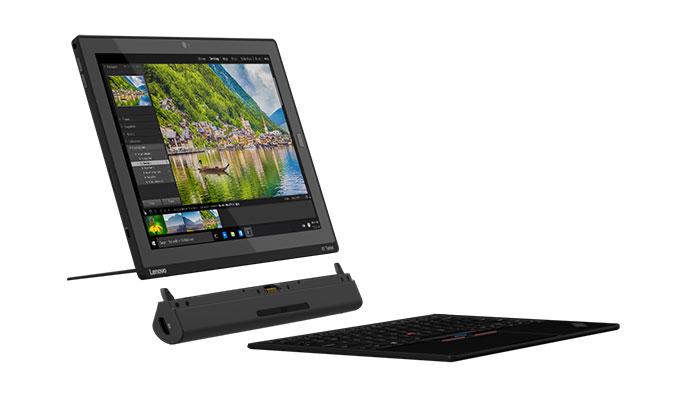 Next one is ThinkPad X1 Tablet, which is also believed to be a compact version of X1 Yoga. It is blessed with a 2K IPS display and is powered by Intel's 7th gen processor coupled with up to 16GB of LPDDR3 RAM. It also packs 1TB of inbuilt storage and its battery can keep it awake up to 15 hours.