Several Windows 8 laden tablets are stacked in market, to prove their materiality for entry-level users. Several makers are already offering their products in the same range. HP is one among them which has a cheap Windows 8.1 powered Stream 7 to sell. Well, business professional are expecting a small tablet device which can help them in running their business on the go. Currently, all the available tablets' specs don't match with the requirements of businesses. So, HP has decided to bring such a tablet that can fulfill them.
Datasheet of a new upcoming tablet device has been seen on the Company website, labeled HP Pro Tablet 408 G1. Hopefully, the leading PC maker will soon announce a tablet for business buyers. So, it could be possible for every tech enthusiasts to see first tablet, offering Windows with Bing (WWB) at affordable price range. This will defiantly enhance the sale of this unannounced business tablet.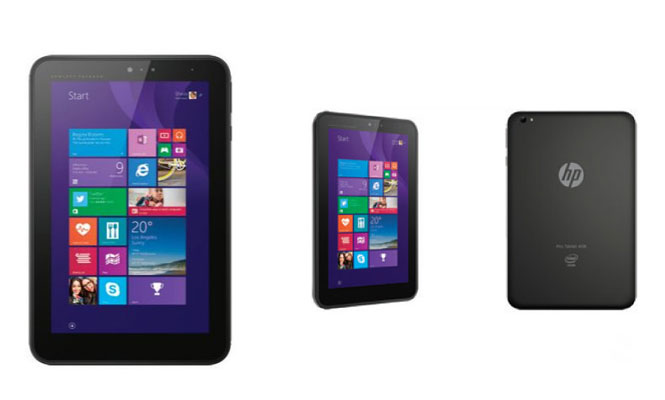 HP Pro Tablet 408 G1 is designed to offer rich features, keeping the affordability and the size in mind. The 8-inch tablet has an IPS display with 10-point multitouch support. It will provide the quality screen output with 1280 x 800 pixels screen resolution. The datasheet also describes its complete features and specification list which include an Intel Atom Z3736F Bay Trail 1.33GHz quad-core processor, 2GB of RAM, 4800mAh battery, microHDMI port, Wireless Display support and many more.
Read Also: HP Sprout PC for Animators and Artists
This device will also come in two built-in storage options – 32GB and 64GB that could be expandable upto 128GB using microSD card. The HP Pro Tablet 408 G1 will also pair with an 8MP rear Autofocus camera which will use LED flash for better result. A 2MP selfie camera is also on-board. This device will also come loaded with Wi-Fi and Bluetooth.
Few other features include dual stereo speakers, TPM data encryption, integrated compass, optional 3G, Bluetooth keyboard case and Active pen. The 408 G1 will also come pre-installed with Windows 8.1 Pro. However, there is no detail regarding its official launch and the price. It is expected that this small business tablet will soon show its significance in the real world.
Source: liliputing.com