Few weeks more and the International Consumer Electronics Show will blossom the soil of Las Vegas with several new inventions in the month of January. Samsung is the biggest one which will gather along with several other startup and well-established tech companies. The Korean tech giant every time makes a perfect impression with its bizarre products. This time, the Company has decided to enhance the level of surprise by showcasing its Tizen TV. A smart television which will run on its own operating system will make first debut at CES 2015.
The gargantuan announced the schedule for its press conference at the event, which is scheduled for January 5 and will begin at 2.00 pm, according to Las Vegas Time. So, it could be possible that the same day, the mobile manufacturer come along with its first Tizen TV. Tizen is a cross-platform operating system of Company which is developed for smartphones, smartwatches and TVs. Smartwatches and smartphones are already available in market, which run on this OS like Samsung Gear S, and now it's the turn of Smart TV.
Kim Hyun-suk, Head of Samsung's Visual Display Division said that visitors at CES will definitely get a glimpse of their Tizen TV. However, he didn't mention that it would be the crux or just a product in the list. So, it is clear that Samsung will bring smart TV based on its own OS. Will the Company power it's all smart TVs with Tizen or not? It's quite a trade secret that is hard to break until the tech giant doesn't reveal by itself.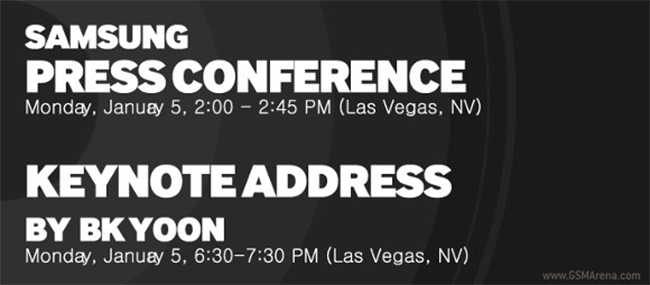 Image Source: GSMArena.com
Kim in his words said, "There will be no surprise shows at CES." This statement fall us in a conundrum state. It seems like Company is planning to commercialize its Tizen based Smart TV by presenting it at CES 2015. Well, take them as a pinch of salt until Company doesn't reveal any detail from its secret hat.
Click here to check out all the updates for CES 2015.