In the world of rumors, where Samsung Galaxy A7 is already getting users attention, it again emerged with a new leak. According to few sources, Samsung is working in order to give the A7 an ultra slim body. It was already being expected that Samsung Galaxy A7 might debut in CES 2015, going to be held in January in Las Vegas. With the launch of this smartphone, it will become the thinnest smartphone by Korea's largest smartphone manufacturing brand.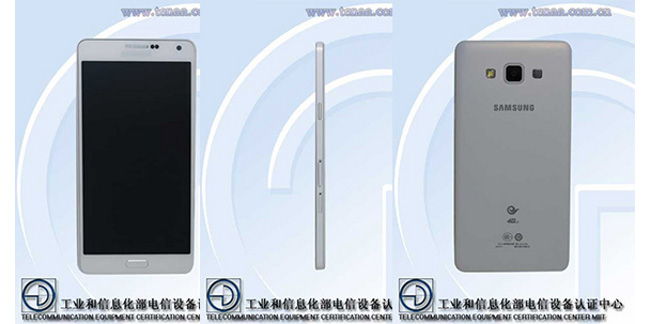 Heeding on the physical dimensions of this phone, it is given 150.9 x 75.9 x 6.3 mm dimensions which in totality weighs 133 grams. So, from these numeric figures it is clear that this upcoming phone will be nearly half a millimeter slimmer than Galaxy Alpha, which is already running in market. The same sources also revealed that this device will be offered with a 5.5-inch 1080p display along with few other features that includes Qualcomm Snapdragon 615 SoC processor with 64-bit architecture. 1.5 GHz octa-core CPU will also be allotted to this device along with the availability of 2GB RAM, 16 GB on-board storage, 12MP primary camera and 5MP secondary camera.
At present, it is being expected that Samsung is developing this device only for Chinese market, but its international variant might also roll-out in the coming days. The point to heed upon will be that whether this impending smartphone will be able to gain the similar likes as gained by Samsung Galaxy A3 and A5.
Source: TENAA.COM