Android devices are not only the smartphones to carry, but also the platform to compare. The handsets featuring the latest OS with the Android platform are often compared to the Android Lollipop. The version is placed up in almost all the segments of the budget phones as well as adorns the specy devices. It is not only reachable to the high edge market but also furnishes the low and mid range market.

The tech giants are heeding upon all the latest technologies with Android Lollipop to configure the platform for smoother approach. The similarity approach leads to the perfection in all the segments but with a wider view to the scenario, the tech giants are focusing upon the Lollipop version to surface the devices. To keep yourself tight and competitive, you should ask your mates for the check and also keep in touch with the latest technologies pacing.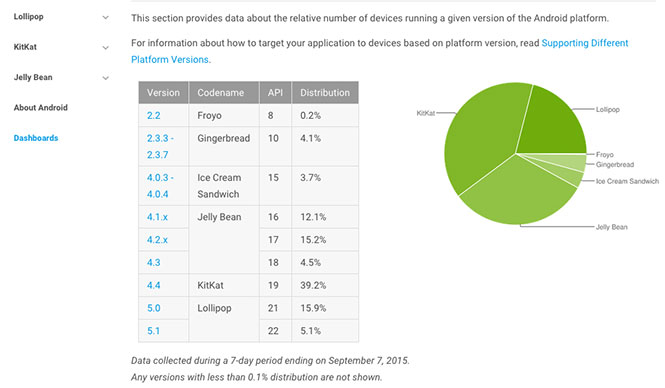 It is reported from the overall outlook that, there are 20 percent of the companies handset that are surfaced with Android Lollipop. The huge number is up from May, along with the 39 percent, the largest number, goes for KitKat and 32 percent following Jelly Bean. The new update only takes 9 percent shares in the market, which is the newest in the market namely, 'Marshmallow'. The CEO Sundar Pichai said, "We checked out the M Preview version in June and found that, When M works well, it really works well", with a focus upon 'Polish and Quality' constraints.

Along with the figures quoted, the new launches like Nexus 9, Samsung Galaxy S6 and S6 Edge casts Android Lollipop above them. The figures also reflect, "devices running the latest Google Play Store app, which is compatible with Android 2.2 and higher". That means, the devices without GooglePlay and are old enough, are not counted in this survey.