What if you find a regular watch is acting like a smartwatch. Looks like a luxury and very elegant, but behaves like a smart wearable, the new invention of the traditional watch maker to prove itself in the tech industry. To jump out from the fashion world to enter into the tech world, the CES event has proved the best stage for them. The California based fashion brand, Guess has decided to spread its feet in the tech market by launching a smartwatch.
The Company has not ditched its design and started to find a helper which can give its watch a power of technology. Finally, the Guess guys met with the Martian who came forward to help the traditional watch maker in manufacturing the techie wearable, named Guess Connect. This new wearable takes the base from Company's popular Rigor design and runs voice control and notification systems of Martian in background.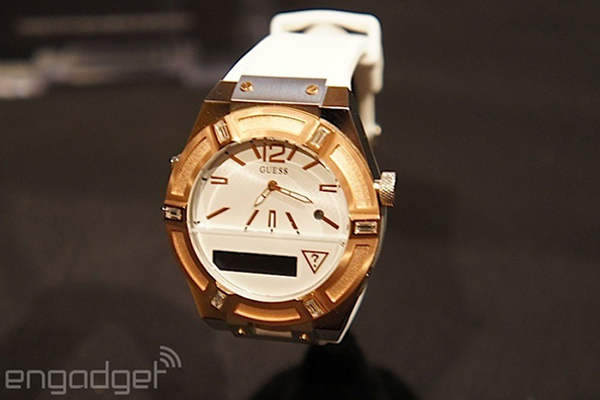 The Guess Connect looks quite luxurious in design with a small OLED display panel at the bottom of the dial. Martian Aviator, Martian Commander, Martian Electra and Martian Monarch are some other smartwatches in this line. When this smart wearable has come out for showcasing, no one could be able to guess these gadgets' as smart gadgets which look like regular wrist watches.
Read Also: Withings Activite Pop Smartwatch First Impression at CES 2015
To give a juice to its mechanical parts, it has regular battery cell while the smarter parts functions by charging using micro-USB. The Guess Connect will drop you into a questionable state until it becomes official at the price of $300.
See all the updates and newses of Consumer Electronics Show at our page CES 2015.
Source: engadget.com