Enduring for last 100 years, Italian luxury car manufacturer Maserati continues to embrace challenge with its new luxury sedan Quattroporte diesel in India., after 6 years launch of current-gen Maserati Quattroporte.
The 2019 version is built to offer upgraded refinement levels which consist of many beautiful alterations inside and outside the flagship Maserati sedan. It comes with new colours, wheel designs, redesigned gearshift lever and Pieno Fiore natural leather interiors, advanced graphics for the Maserati Touch Control Plus infotainment system along with two interior veneer finishes – the Carbon Fiber Twill and the wooden Rovere Veneer.
The 2019 Quattroporte is offered in two paint options (Rosso Potente and Blu Nobile). The model is offered in two variants- GranLusso and GranSport trims, defining an alluring fusion of style, luxury, and feat. Both the variants bear no resemblance in their exterior.
Read Also:- New Joint Board Will Be Created By Renault, Nissan and Mitsubishi: Declares
GranLusso trim comes with different front bumper fitted with a small front spoiler and chrome inserts, body-shaded side skirts with 20-inch alloy wheels adds to its dynamic appearance.
GranSport variant greets a combination of, 21-inch wheels with red-painted brake calipers, marked intakes in the front bumper, lower section coupled with an aero splitter, finished side inserts in mesmerizing black, justifies its sportier looks.
The front look with superior & powerful nose sculpted around the Alfieri-shaped 3D grille, which is blunt & impressive, featuring vertical chrome rib elements challenges the depth of the 'shark nose' effect.
Read Also:- Smart Driving License Across Nation In 2019 To Bring Uniformity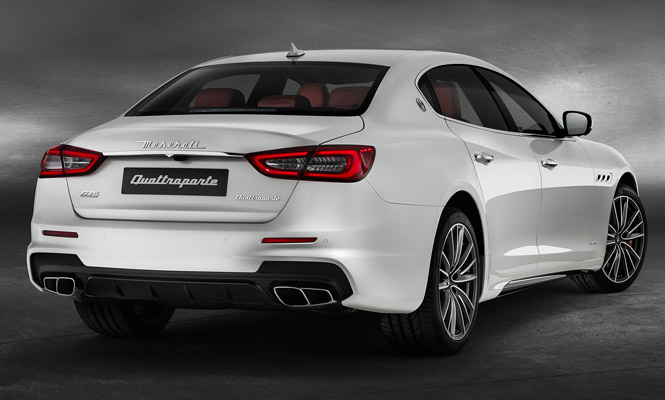 The 2019 Quattroporte comes with refashioned gearshift lever, enables a more intuitive shift pattern and enhanced operation. This facilitates the driver to use the eight-speed ZF gearbox automatically or manually by simply shifting the lever from right to left, while a new 'P' button sets the transmission in parking mode rapidly & easily.
The MTC + infotainment system has been refined with latest display graphics and updated climate control system ergonomics.
The 8.4-inch touchscreen infotainment display is consistent with Android Auto and Apple CarPlay. A standard entertainment system comprises of 10-speaker, 900W Harman Kardon audio mechanism, & 15-speaker, 1,280W Bowers & Wilkins Surround Sound system available as an option which adds leisure to luxury.
Read Also:- National Mission on Transformative Mobility and Battery Storage Approved By
This is the first time that Maserati has brought in full-grain Pieno Fiore leather, known for its natural, soft & leisure feel.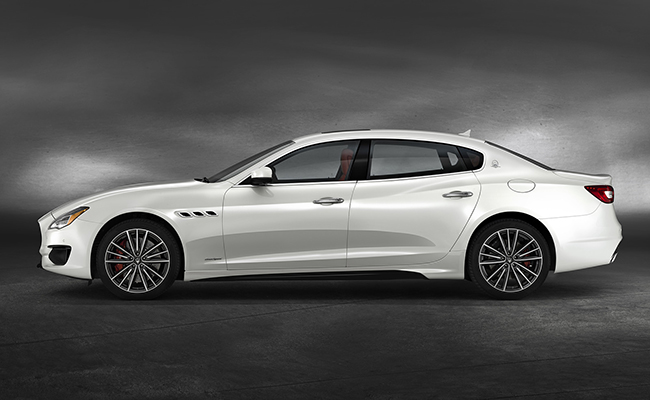 Power and performance
Quattroporte gets an elevated performance, 3.0-litre V6 turbodiesel engine combined with AdBlue technology adds efficiency & performance by producing 275hp and 600Nm of torque mated to an 8-speed automatic gearbox. As far as the power of the rear wheels only is considered, the Quattroporte diesel has a 0-100kph time of 6.4sec with the highest speed of 252kph.
Read Also:- Elon Musk Announces Tesla Model Y SUV Launch on Twitter
Price and availability
The first edition of 2019 Quattroporte will be available in Delhi initially. The 2019 Quattroporte GranLusso version is available at a starting price of INR 1.74 Cr and the Gransport version at INR 1.79 Cr ( ex-showroom) Delhi. At present, the 2019 Quattroporte is available only with a diesel engine, as the updated Quattroporte GTS – with a 3.8-liter, 530hp petrol V8 – will be introduced later and will include the Alfieri coupe, a new SUV that will slot in beneath the Levante, and a pack of hybrid and full-electric models.