Convertibles are difficult to resist especially if it carries the Mercedes-Benz badge. One look at the recently introduced C 300 Cabriolet Facelift and we bet you would be wishing to ride this piece of beauty at the earliest. Redesigned to serve all your needs ranging from power to performance, the beauty is for yours to take home at Rs 65.25 lakh (ex-showroom, India).
What New?
The Exterior
Exterior changes on the C300 Facelift Cabriolet are in line with those on the recently launched 2018 C-class Facelift. Reportedly, the base variant of the C-class sedan costs around Rs 40 lakh. This makes the C300 Cabriolet Facelift dearer than its sedan sibling by some margin. New design elements on the C300 Cabriolet Facelift include LED headlights and tail-lights with redesigned front bumper. The convertible sits on all-new 17-inch alloy wheels. Further, convertible enthusiasts will have three new exterior color options to choose from.
Read Also - 1984 MR2 to Make an 'Electric' Comeback
The Cabin
The cabin comes adorned in luxury and sportiness for a Goldilock effect. The highlight though is the new steering wheel with dual touchpad controls. Buyers can also opt for an open-pore walnut wood trim finish on the dashboard and instrument clusters. Further, infotainment needs will be served to perfection by a 10.25-inch touchscreen infotainment system with apple car play and android auto support.
Last but not least, buyers can customize the cabin look and feel from an exclusive palette of color and match the roof accordingly with four contrasting color options for the roof as well.
Read Also - Jaguar launches F-Pace SUV at ₹ 63.17 lakh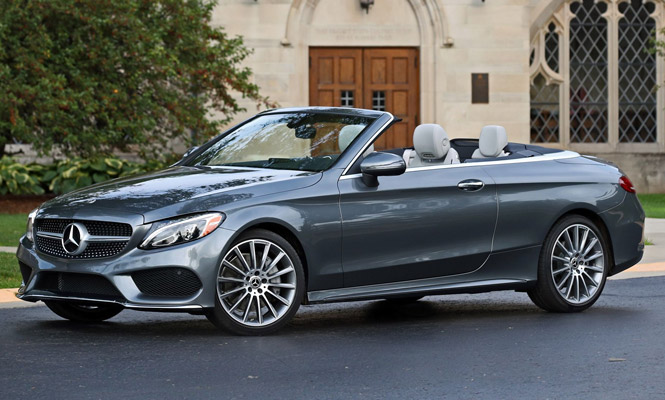 The Engine
The C300 Cabriolet facelift gets a new powerful heart this time. The bonnet carries an all-new BS-VI-compliant, 2.0-litre petrol engine which comes mated to a 9-speed automatic gearbox. It cloaks 258hp at 370 Nm of torque. In terms of acceleration, C300 Cabriolet facelift goes from naught to 100 in 6.2sec. The new mill outruns the retiring model in power and acceleration by 13hp and 0.2 sec respectively. The top speed of 250 kph is more than enough to match any adrenaline rush.
Read Also - NCAP: Safeguarding Car Passengers Since 1979
The Competition
In its segment, the Mercedes-Benz C300 Cabriolet has no immediate rivals. Audi A3, the immediate rival Cabriolet at Rs 50.35 lakh (ex-showroom) falls significantly short both in size and prize when compared to its new German Sibling.