One of the biggest events in the tech world is little far to blossom the land of Las Vegas and we have tried to look forward to this biggest event of the next year, the CES 2015. Only two months have left, so we can say that all the manufacturers will begin to pack their bags to show their grandiosity in the city of lights. All of them have begun preparing themselves for press conference and also started to invite media persons to show their products. In this pipeline, Sony has got the schedule for its products, and we are expecting Xperia Z4 debut at CES 2015.
It seems like the event is going to honor Sony by scheduling its press conference on the first day, January 5 at 5:00 PM PST. It is expected that several hardware will be showcasing there. However, the Japanese giant has not spoken a single word on the same, but it may bring its next flagship Xperia Z4 on CES floor.
Read Also: Expected Features and Specification of Xperia Z4
Well, we can't take it as authentic, but taking Xperia Z1s and Xperia Z1 Compact launch in CES 2014, we can speculate that Xperia Z4 Compact, Xperia Z4 Tablet Compact, and Xperia Z4 Ultra will be showing their existence as well. However, try to take all these as a pinch of salt. On the other side, another tech giant Asus is also seemingly in talk for launching its ZenFone 2 series in the same event.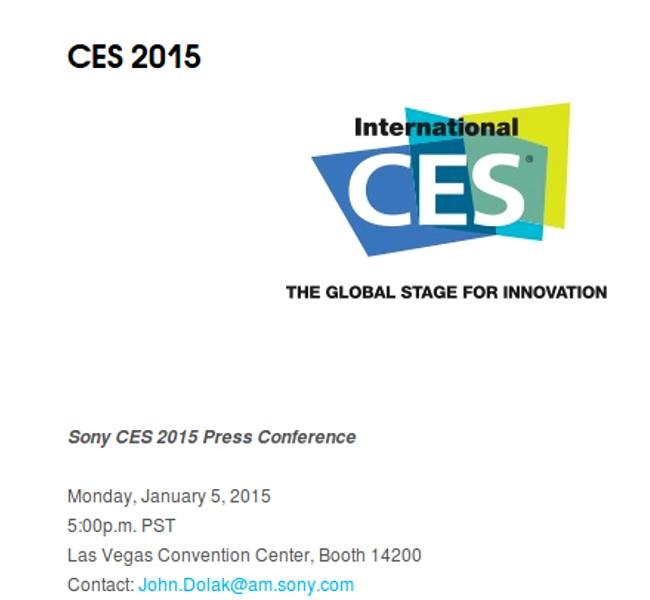 It is also said that a new image sensor by the manufacturer, named Exmor RS IMX230 could also see the International event, because the same is speculated for crafting in the Xperia Z4. It is also said, that this upcoming Sony handset will launch in spring season for global market.
Read Also: new Exmor RS IMX230 image sensor in Sony Xperia Z4
Looking at the history of Sony, we are speculating this launch. Company had earlier brought Xperia Z3 just after Xperia Z2 launch. The same is expected for the upcoming flagship. At present, we are not sure about what Sony devices will make their presence in the Consumer Electronics Show, but we will definitely update you with every detail regarding the same, just stay tuned with us.